Voted one of the 'Hottest Bass Players in the World' by readers of Bass Player magazine, virtuoso British-Asian bass player Shez Raja is renowned for his high energy live shows, unique Indojazzfunk sound and global star collaborations with Mike Stern, Randy Brecker, Trilok Gurtu and Wayne Krantz. 

Following spectacular performances at top UK venues including Ronnie Scott's and Jazz Cafe as well as major international jazz festivals from Europe to New Zealand, Shez and his band have amassed a devoted following and forged a reputation as one of the most entertaining live acts on the scene today.

For his latest album Tales from the Punjab, released in 2021 on Ubuntu Music, Shez digs deep into his rich South Asian heritage to create his most exquisite and heartfelt recording to date. Early the previous year Raja travelled to the Punjab to explore his identity and immerse himself in the musical culture of his roots.

Whilst in the vibrant city of Lahore he had a magical and enlightening experience collaborating with some of the most accomplished musicians of the subcontinent including Ahsan Papu (bansuri flute player for legendary singer Nusrat Fateh Ali Khan), Zohaib Hassan (seventh-generation sarangi player of the Amritsar Gharana), Kashif Ali Dani (tabla maestro of the Punjab Gharana which includes Zakir Hussain), singing prodigy Fiza Haider and cajon guru Qamar Abbas.

"For several days we shared a musical and spiritual journey together through ancient ragas, traditional melodies and free improvisations, creating a bridge between cultures with beautiful, exotic and timeless sounds," says Raja.

2019 saw the release of Shez's highly anticipated album Journey to Shambhala. Journey to Shambhala is inspired by Raja's self-composed tale of a young man who embarks on an adventure to discover the mystical city of Shambhala. He has a wild experience of excitement, danger, friendships, love and deceit - told through a musical voyage of soundscapes from exhilarating jazz-funk to enchanting ballads. The search for happiness is something we can all relate to and this concept album holds the message that, as in life, the journey often holds as much wonder as the destination. The CD includes a story booklet that reveals how each scene inspired the compositions on the album.

The album recording sees award-winning Indian percussion guru Trilok Gurtu and US guitar genius Wayne Krantz joining Shez on his journey, alongside the UK's fast-rising DJ and remixer Happy Cat Jay who reworks key tracks in a style that is all his own. The 'Epiphany' single is accompanied by an innovative animated music video and the 'Dharma dance' single is available on a special 'direct to vinyl' 7" recording, on Gearbox Records.

The last five years have been a turning point for Raja - from the release of the critically-acclaimed album Gurutopia (on US label Dot Time Records) featuring global jazz legends Mike Stern and Randy Brecker, an 'Inside The Mind' feature on BBC Radio 3's Jazz Line-Up, to performing at EFG London Jazz Festival and to a 800 capacity crowd at Islington Assembly Hall in London.

Shez regularly collaborates with stars of the British and international jazz world. Stellar line-ups on his albums and live shows also include John Etheridge, Dennis Rollins, Denys Baptiste, Oren Marshall and Arun Ghosh.

Previous releases include the vibrant live album of 2014 - Soho Live - featuring Soweto Kinch, Shabaka Hutchings and Jay Phelps and studio album Mystic Radikal (2010) featuring Andy Sheppard, Monika Lidke and Claude Deppa, with both records released on 33 Jazz Records.

The varied line-ups create fascinating musical interactions, keeping the music both exciting and fresh so that each live show is different.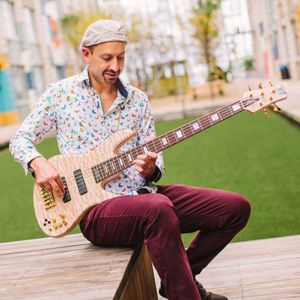 Biog

Shez Raja was born to an Asian father and English mother, on the Wirral, in the North-West of England. Classically trained on the violin from the age of 9, a few years later he traded the instrument for electric bass and hasn't looked back since.

Educated at Leeds College of Music, Raja toured the UK with various groups before becoming a highly sought-after session musician.

He then went on to perform at Glastonbury Festival, the prestigious Ronnie Scott's Jazz Club, Royal Festival Hall, Southbank Centre, Shepherd's Bush Empire, Islington Assembly Hall and the London Forum, as well as touring Europe with platinum-selling hip-hop artist MC Lyte. Shez has appeared on BBC 1, MTV, national TV in Germany, Switzerland and New Zealand and has featured on BBC Radio 1, BBC Radio 3 and Jazz FM.

In his formative years, Shez went on trips to the Punjab region of the Indian sub-continent with his father and immersed himself in the musical culture of his South Asian roots, learning tabla drumming.

Shez's mission as an artist is to be authentic with his emotions, develop his own unique voice and to explore the language of music to become fully self-expressed. He concludes, "I believe the ultimate goal for a musician is to make music that is raw, real and from the heart, that moves and inspires people".